Cart recovery for WordPress Pro takes your abandoned cart recovery to the next level. Building on the shoulders of the core plugin, the Pro add-on adds the following features for maximising your recovery efforts.
It works. It's simple and does its job without a fuss. It's well designed. Competing products do basically the same thing but charge literally 10 times as much.
Flexible email timing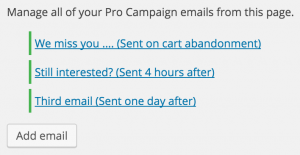 Instead of just sending a single recovery email, you can configure as many emails as you like. You choose how long after abandonment each email in your campaign will be sent, and provide unique email content for each email.
Auto-generated discount codes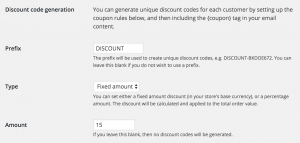 You can have individual discount codes generated automatically and then included automatically in your email campaigns.
Simply choose from fixed amount discounts ($5), or percentage based coupons. Each coupon is one-time use only. The plugin will generate the code as the email is sent, and insert it into your email automatically where you choose. The discount code will be automatically applied to the cart when the user clicks through. Generated discount codes can even have limited validity, letting you create a sense of urgency with discount codes that have to be used within a certain amount of time.
Dynamic email capture
As soon as a prospective customer adds a product to their basket the plugin prompts them with a dynamic pop-over dialog to "save their cart" by entering their email address. This means you can capture and engage with new customers who never reach checkout.
View abandoned cart details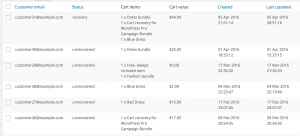 View a detailed list of all ending carts, and carts in the recovery process. For each cart you can see the user details, cart contents, total cart value, and the current status. You can export the list to CSV for separate follow up.
You can click through into individual carts to see the interaction history of the user, including what emails the user has been sent, and how they've interacted with the campaign, including click throughs, and unsubscribes.
Reviews
I LOVE this application. Being able to draft and auto-send multiple reminders about abandoned carts is definitely worth upgrading to the pro version! Will recommend to other small business owners I know!
Great plugin and brilliant for businesses looking to reclaim potentially lost business.
Just wish it wasn't a yearly renewal. If that doesn't change, will probably look for a plugin with similar features without a yearly subscription.
Otherwise a great plugin
The ability to request a users email when they add to cart is something we had been looking for for a long time. This plugin works really well and we have recovered a number of sales as a result. Unfortunately it only works if woocommerce is set NOT to redirect a visitor to the basket when an item is added. Most of our customers only make one purchase so we would prefer them to go to the basket and move closer to completing a sale. Therefore this software would be better if it worked in both cases and that is the only reason I give it a 4* instead of a 5*. Finally, some decent documentation explaining the workflow and trigger logic would be a great help and save time bothering support with questions and give confidence that it's working correctly. Unfortunately we're naturally sceptical as so many plugins don't work properly but fortunately this one does.
I purchased the pro version a few weeks back on the 13/6/17 and wanted to tell you its working great and it has already recovered 20 abandoned carts in just a few short weeks which is fantastic as these orders could of been easily lost.
This plugin paid for itself within 2 days so highly recommend it to anyone sitting on the fence.
I am so pleased with this plugin! I had a problem with it and the service was amazing. They were quick to help me fix it. Highly recommend. Super easy to use and set-up.
Bought this a few months ago, and once I set it up right it was great. It automated everything so now we just let it run, so anyone that adds our coffee to their basket and leaves before paying, now gets a reminder email, with a 42% recovery rate… which means that 3 people out of every 7 come back and finish their purchase thanks to a helpful little nudge.
Had a few teething problems at the start but the developer helped us almost instantly which was nice
Simple to setup and insightful analytics included in the backend to watch the behaviour of you store cart and customers. Currently we are using it with WooCommerce and keeps our ecommerce website converting lost shoppers everyday! Support is quick and always helpful!
You must log in to submit a review.