Cart recovery for WordPress Pro takes your abandoned cart recovery to the next level. Building on the shoulders of the core plugin, the Pro add-on adds the following features for maximising your recovery efforts.
It works. It's simple and does its job without a fuss. It's well designed. Competing products do basically the same thing but charge literally 10 times as much.
Flexible email timing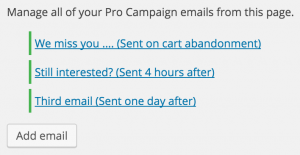 Instead of just sending a single recovery email, you can configure as many emails as you like. You choose how long after abandonment each email in your campaign will be sent, and provide unique email content for each email.
Auto-generated discount codes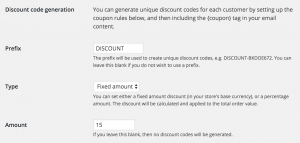 You can have individual discount codes generated automatically and then included automatically in your email campaigns.
Simply choose from fixed amount discounts ($5), or percentage based coupons. Each coupon is one-time use only. The plugin will generate the code as the email is sent, and insert it into your email automatically where you choose. The discount code will be automatically applied to the cart when the user clicks through. Generated discount codes can even have limited validity, letting you create a sense of urgency with discount codes that have to be used within a certain amount of time.
Dynamic email capture
As soon as a prospective customer adds a product to their basket the plugin prompts them with a dynamic pop-over dialog to "save their cart" by entering their email address. This means you can capture and engage with new customers who never reach checkout.
View abandoned cart details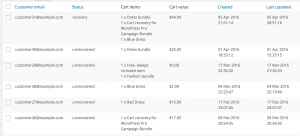 View a detailed list of all ending carts, and carts in the recovery process. For each cart you can see the user details, cart contents, total cart value, and the current status. You can export the list to CSV for separate follow up.
You can click through into individual carts to see the interaction history of the user, including what emails the user has been sent, and how they've interacted with the campaign, including click throughs, and unsubscribes.